My Sunday Guardian column for 3rd July.
Taut, unafraid, witty  — and gets mood right
DELHI BELLY
Director: Abhinay Deo
Starring: Imran Khan, Vir Das, Kunal Roy Kapoor, Poorna Jagannathan
****
But being unapologetic would be no good if it weren't also well-thought-out. Thankfully, it is.
Delhi Belly
is that rare cool film in which sly one-liners do not replace a plot. LA-based Akshat Varma's story isn't spectacularly new or anything – three young men get caught up in a sticky situation when they find themselves in possession of some smuggled diamonds – but the execution is both taut and atmospheric. There are caricaturish in-laws, burqa-clad getaways and madcap imaginary songs, but director Abhinay Deo manages to keep things on a tight leash; letting the lunacy wash over us, but never too much.
This is a film that's not trying to be 'realistic' so much as surreal. On the most basic level, other than a long Old Delhi sequence, there is very little attempt to map real Delhi neighbourhoods, unlike, say, the superb
Do Dooni Chaar
or
Band Baaja Baraat
. The about-to-fall-down flat where the boys live is way too colourfully skanky to seem like a real place that three young reasonably employed Delhi youngsters (a journalist, a photographer, an advertising guy) would rent; the brothel, the advertising office, even the party to which Menaka (a striking Poorna Jagannathan) calls Tashi (Imran Khan) have nothing specifically Delhi about them, and so on. But none of this seems to really matter, because the film somehow gets the mood exactly right, aided by Ram Sampat's fantastic soundtrack, Amitabh Bhattacharya's very clever lyrics, minor characters like the smarmy jeweller, Menaka's insanely belligerent ex-husband, and the ubercool Menaka herself, who are all perfectly Delhi – not to mention the brilliantly memorable Vijay Raaz as the guy who wants his diamonds back.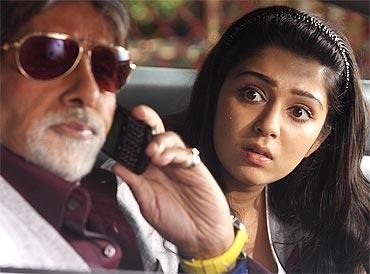 Big B shows he ain't quite Bbuddah yet
BBUDDAH HOGA TERRA BAAP
Director: Puri Jagannath
Starring: Amitabh Bachchan, Raveena Tandon, Hema Malini, Sonu Sood
***
Right from the opening sequence, which gives us an updated version of the truly villainous '80s villain – the brilliant Prakash Raj asking a sidekick if he likes watching live cricket, and then announcing that he's now going see a "live bomb" explode on television – Puri Jagannath makes it clear that we're watching a true-blue, larger-than-life masala picture. And who can do larger-than-life better than Amitabh Bachchan? Clad in suitably jhataak outfits – all-white suit with yellow scarf, or motorcycle jacket and aviators – the great man gives us a great deal to smile about as the rakish Vijju, a retired gangster who's back in Mumbai on a mission. Whether he's ribbing the 43-year-old "bachcha" at the airport who has the gall to ask why he's breaking the queue, impressing the hell out of present-day gangsters with his sharpshooting skills, or advising the harassers of young women in coffee shops to learn how to woo women, Bachchan seems like he's thoroughly enjoying himself. Which ensures that we are, too.
Other ingredients provided for our viewing pleasure include the wonderful Sonu Sood, perfectly cast as the angry young ACP Karan Malhotra, and his love interest Tanya, the pretty enough but rather wooden Sonal Chauhan. Jagannath also gives us an ex-wife in the form of a weepy Hema Malini (I must confess I was glad there was as little of her as possible, apart from the superb final dialogue), and an ex-flame called Kamini, in the form of the still super-curvacious Raveena Tandon, who unfortunately goes from attractively ditzy to over-the-top annoying in minutes. My pick of the non-Bachchan moments goes to Amrita (Charme Kaur), who wails long and loud in the most endearingly convincing fashion. But really, we know what we're really here for, and there's plenty of that: Amitabh unexpurgated, and with only one song that recycles his old hits into an embarrassing white-girl-filled medley. For all those Bachchan fans who've been increasingly distraught as he goes from one ridiculously mannered performance to another (I mean all the
Black
s and
Last Lear
s out there), interrupted only by the insufferable grandfatherly-ness of
KBC
,
Bbuddah
is a joy.