Last fortnight's Sunday Guardian column: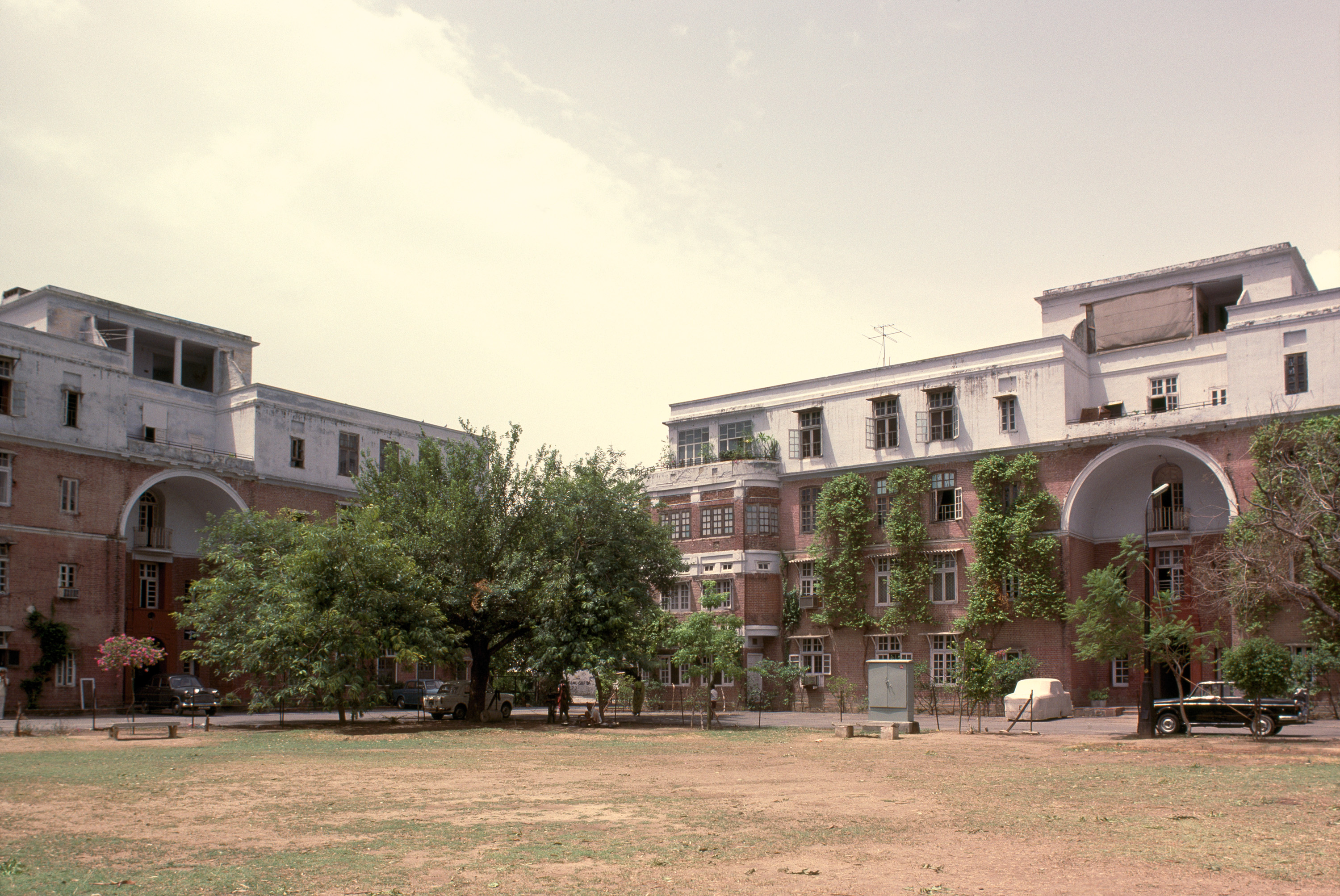 A view of Sujan Singh Park
Last month, the good folks at The Attic organised a marvellous week of evening events under the rubric of a Baisakhi festival. The most incredible thing about these events was that they were held outdoors, on a small stage that had been erected in the 'park' part of Sujan Singh Park. Built by Sir Sobha Singh, who was the primary contractor for the building of New Delhi (and the father of Khushwant Singh), Sujan Singh Park is among the loveliest neighbourhoods in Delhi. The buildings are set around a tidy little quadrangular park, their tall red brick facades and double-storey entry arches an elegant container for the spacious old high-ceilinged apartments within.
Listening to Madan Gopal Singh sing of Heer and Ranjha in this milieu was marvellous, especially because Singh never just sings — he annotates each section of the Punjabi love legend he sings with inimitable commentary that is always deeply informed and often very funny, in his characteristic poker-faced way. "This is a badhai, which as you know means 'You increase my happiness by becoming happy with me.'" Or later, "Heer and Ranjha only think of consummating their relationship on the day that she is married to another man. This is typically Punjabi. But they don't manage it. And this, too, is typically Punjabi."
But what made it even rarer was the sense it managed to conjure up of public-spirited participation. When we arrived at 6pm, there were rows of chairs laid out on the lawn, and some mattresses closer to the stage. At the back was a small counter with a supply of tomato and cucumber sandwiches, cups of hot chai and the tastiest, most gingery gur pare I have ever eaten. The music and the snacks were both free. (I took three gur pare with my tea, and by the time I went back to get a second helping, they had all — unsurprisingly — been consumed.) The introduction before the music was enjoyable, too. The compere half-laughingly referred to a taxi driver called Lucky who told her that his grandfather had told him there were no love stories in the Punjab, because all lovers simply died. Then a lady called Reena Nanda came on, because her mother was from Jhang, where Heer was from. After the music, the audience was urged to go and take a look at the small display that had been put together of photos of the tomb of Heer and Ranjha. When we walked up to the images, there was an old baba sitting there, who'd apparently been informally invited by one of the organisers who'd met him somewhere. The baba blessed us with a puff of smoke from a chillum.
I was so charmed by the whole thing that I decided I had to come back for another event before the festival ended. That turned out to be even more fun. Madan Bala Sindhu and her troupe were presenting folk songs from Punjab. They sang songs for every occasion you could think of, from bidaai songs that bid farewell to a daughter after her marriage, to children's songs of play. The highlight for me was a song that mimicked a quarrel between a woman and a nosy neighbour who insists on knowing who her male visitor is. Sindhu's company, sadly, has a solitary adult man to sing all the male parts, but it has an assemblage of wonderfully robust-voiced women and rather game teens, who acted as baraatis and even as fake bride and grooms to give the wedding songs something of a ring of authenticity.
The performance ended with a series of appropriately festive Baisakhi numbers, and space was cleared to let audience members join the troupe in an impromptu dance. And as if that wasn't enough by way of participatory festivities, a hot langar meal of dal, roti and gobi ki sabzi followed, with youthful Sujan Singh Park-ers ladling out food to people who had sat down in neat rows on the grass.
It was an event that seemed beautifully rooted in a community and neighbourhood, while being remarkably open to the enthusiastic outsider. The only other times in Delhi that I've attended things that have a similar feel are Durga Puja gatherings — though only the smaller pujos still retain something of a sense of locality — and a Ramlila I went to in Mehrauli last year, where people in the audience seemed to know the people on stage. Both those sorts of communities, interestingly, are created around a religious event, and it is worth thinking about whether that immanent religiosity excludes any sorts of people — while of course drawing in many. The Attic's Baisakhi Festival, while it adopts the Sikh practice of langar, also happily brings in a pir to bless people. It was very much about the culture of Punjab, but it seemed to welcome the rest of Delhi in with open arms. In a city in which the word 'gated' has come to be the most commonly used one ahead of the word 'community', one feels extraordinarily grateful for evenings like these.