Tamanchey, like Revolver Rani from earlier this year, makes a half-baked attempt at an atypical gangster heroine. But in both, the desi dominatrix on overdrive exposes the limits of male fantasy.

Richa Chadda in Tamanchey, 2014.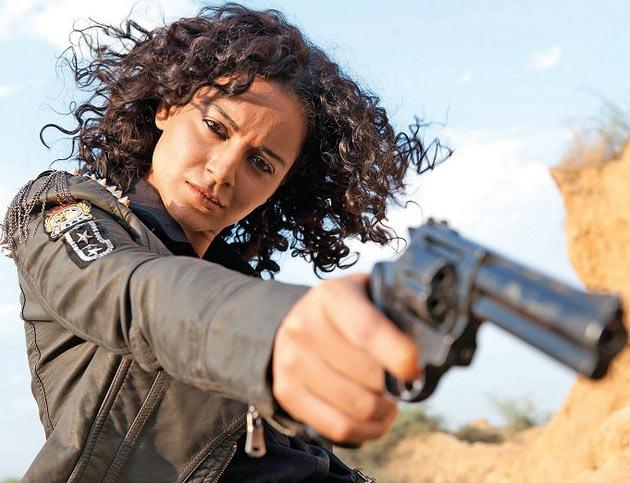 Kangana Ranaut in Revolver Rani, 2014.
Tamanchey, one of several smallish films that released at the box office this week, features Richa Chaddha and Nikhil Dwivedi as two hoods who meet while on the run from the cops and end up getting involved. In one of the interviews before the film's release, the film's makers insisted that the film should not be seen as another Bunty Aur Babli, because these two aren't cons - they're criminals.
They certainly are. Chadda's character, who goes by the slightly masculine name of Babu, is the girlfriend and associate of a lethal Jat known as Rana Tau. They run a 'business' of supplying drugs across the NCR. Dwivedi's character, Munna Mishra, works as a professional deliverer of threats for a big man, until he inveigles his way into Tau's gang and moves with alacrity into drug dealing and bank robbery.
Tamanchey tries hard to bring us atypical protagonists -- a foul-mouthed heroine with plenty of experience, in every sense of the term, and a Bihari hero who shunts sulkily between his miffed male pride and his unwilling status as sexual ingenue who can't help but admire this "parkati". There's an attempt at giving the characters nuance based on their language --
Munna's exaggerated Purabiya lilt and
Babu's largely superfluous use of English words to impress the (non-English-speaking) Munna - but that's as deep as Navneet Behal's characterising skills go. For the rest, it seems, surface outfitting will have to do. So Munna gets loud printed shirts and red trousers to announce his poor boy flashiness, while Babu gets various cleavage and thigh-revealing outfits to tell us how brazen she is. But their insane inappropriateness in a villain's den where everyone else is most soberly clad helps catapult the film into gangster's moll territory of a previous Hindi movie era. (That era is also evoked by the RD Burman song from Mahaan, 'Pyar mein dil pe maar le goli', which has been revived in a Bappi Lahiri version as the title song, and perhaps unwittingly -- by the cops who arrive at the very end of the nth bank robbery and proceed to be out-shot and outwitted by our anti-heroic couple). Though one can very dimly glimpse where they wanted to go with the deliberate 'crude cool', the direction is too erratic to get this film even a quarter of the way there. On one hand, it is far from the superbly realized comic caper of Bunty Aur Babli, on another, it fails to get within spitting distance of the Tarantinoesque.
What it did remind me of is Revolver Rani. Directed by Sai Kabir and produced by Kabir's guru Tigmanshu Dhulia, that film's USP was another foul-mouthed, violent, gun-toting young woman. "I love phasion, phun, aur gun", she announces in what is supposed to be Bhind-Morena's special brand of Hinglish. Kangana Ranaut's portrayal of a new-age dacoit-cum-politician might be imagined as being a tongue-in-cheek updating of the one real-life female dacoit-cum-politican we've had from the Chambal badlands: the ill-fated Phoolan Devi. If only it weren't so absolutely clear that the gun-slinging Alka Singh of the insatiable sexual appetite and spiky bustiers -- just like Richa Chadda's trigger-happy and libidinous Babu -- is pure male fantasy.
Both Revolver Rani and Tamanchey have half-baked plots and badly written scripts, dispensing with characters' backgrounds in two-minute sob-stories while trying to distract us with dialogue-baazi. Both lay claim to a sense of place, but are too inept to do anything but flag their failures. Ranaut and Chadda, both having proved their considerable talent in other films, fail miserably to keep these rudderless ships afloat.
All they're riding on is the 'innovation' of man-eating heroines who pick men as objects of lust, not love. Alka Singh, in one of the film's more successful scenes, picks Vir Das as winner of an underwear modelling contest. In the tradition of big men through the ages, she then gives him the privilege of sleeping with her and then pretty much keeps him captive as toy boy, making grand plans to make a movie "for him" while occasionally feeding him weird local delicacies that will keep him virile enough to service her. Babu in Tamanchey isn't quite as demanding, but she is certainly the only one allowed to make the moves. She slaps Munna when he tries his luck, though later thaws enough to succumb to a roll in the hay (er, in the tomatoes) before abandoning her sleeping conquest to return to her gang. The girl, true to this tough-as-nails characterisation, is initially completely unaffected by their drunken sexcapade; it is the boy who does the post-coital coyness of "Hum tumse I love you karte hain" and follows her all the way to gangland.
But the gender role reversals that are meant to power both films fizzle out astoundingly fast. Alka becomes obsessed with raising a baby, and Babu, too, reveals that her thick gangster skin hides a girl who's been dying to play housewife.
Clearly, that's where even the most libidinous Indian male fantasy ends.
A version of this was published as my Mumbai Mirror column last Sunday.