Yesterday's Mumbai Mirror column:
Manish Gupta's engaging-enough whodunit, Rahasya, centres around a doctor couple whose teenage daughter is found murdered. Watching it made me wonder about fact in the fiction film.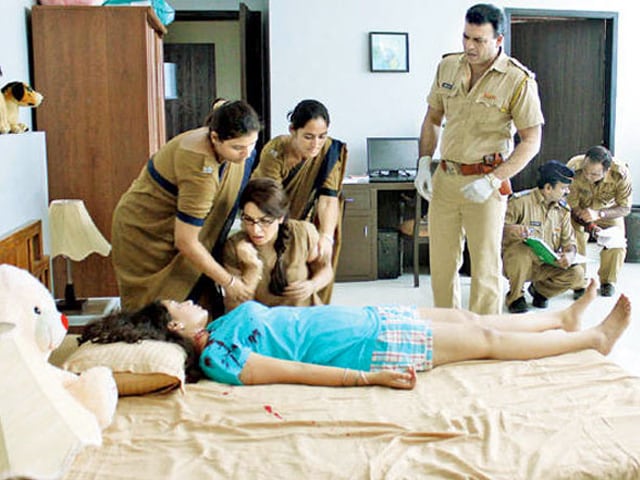 The Indian American writer Akhil Sharma, author of the universally feted 2014 novel

Family Life

, recently gave an interview in which he said his mother's only response to his book was to ask him: "Why are only some things true?" On the surface, the question is simple, almost too simple.





But scratch it a little and you hit a nerve that's pretty profound. What is called into question is the very meaning of fiction. If the fictive is that which is made up, from the Latin

fictio

, then why is it necessary for it to draw on the factual at all? Who decides which parts of a so-called fiction will be 'real' and which imaginary? Why is such mixing even allowed?





It is a question that must often be asked by those who find themselves, willy nilly, at the centre of a fictional narrative over which they have no control, their lives written into a text in a way that is fully recognisable -- and yet insists on all the creative license of imagination.





Until recently, Hindi cinema hasn't been particularly taken with 'real life'. In the last decade or so, there has been an outpouring of 'bio-pics', biographical pictures that are historical, though ranging so far and wide as to take in Mangal Pandey on one hand and Silk Smitha on the other. Sportspersons have become a particular favourite, with films being made on Paan Singh Tomar, Milkha Singh and Mary Kom.





But a sub-category of the 'real-life' Hindi movie is the film inspired by a case. The famous Nanavati case of 1959, in which a naval officer called KM Nanavati shot and killed his wife Sylvia's lover, a man called Prem Ahuja, was the inspiration for R K Nayyar's 1963

Yeh Raaste Hain Pyaar Ke

, starring Sunil Dutt, and many years after, for Gulzar's 1973 film

Achanak

, starring Vinod Khanna. (The Nanavati case - with a patriotic loving husband as protagonist and a dastardly non-serious aashiq as murder victim -- remains hot as ever. It is rumoured to feature in Anurag Kashyap's much-anticipated

Bombay Velvet

, another forthcoming film to be directed by Soni Razdan, as well as yet another film starring John Abraham. The more, the merrier, I suppose.)





Many filmmakers seem unwilling to wait as long - sometimes not even long enough for the case to have been heard in court. Anurag Kashyap's

Black Friday

was completed in 2004, when the final verdict of the case was still awaited. Based on S Hussain Zaidi's book about the Bombay serial blasts of 1993, which was itself based on the police version of events, the film confidently painted a picture that had no legal sanction.





The accused successfully petitioned for the film's release to be postponed, so as not to influence the legal outcome of the case. The film eventually released in India in 2007.





Ram Gopal Varma, Kashyap's one-time mentor, is also of this can't-hold-it variety. Having caused a storm with his terror-tourism in the Taj Mahal Hotel a mere three days after the Mumbai attacks, in 2013 he released

The Attacks of 26/11

, in which Ajmal Qasab was played as a kind of Neanderthal figure and the attacks were described not through the eyes of any of the eyewitnesses, but those of the Joint Commissioner of Police (the real-life Rakesh Maria, given a fictitious name and played by the dependably theatrical Nana Patekar).





Rakesh Maria also featured in RGV's fictionalised version of another ongoing case, the Neeraj Grover murder.

Not A Love Story

(2011) cast Mahie Gill and Deepak Dobriyal as Anusha and Robin, fictional versions of Bollywood starlet Maria Susairaj and her naval officer boyfriend Emile Jerome. Varma's film was watchable, if salacious. But what seemed ethically complicated is the act of wrapping the bare bones of a real event in a wad of cinematic fiction that will, no doubt, influence what the world thinks about that event.





This week's

Rahasya

, directed by Manish Gupta, does something similar with the Aarushi Talwar-Hemraj double murder. Gupta has covered his tracks more than most by relocating the events of the case from Noida to Mumbai. So instead of a NCR-style housing society, we get a Mumbai multi-storey apartment complex.





The live-in male servant exists in the film, too, but instead of a part-time maid, the film gives us a resident long-time housekeeper and nanny, who is Goan Catholic for no reason I can think of except Hindi cinema tradition. There are all kinds of other shifts of caste and community which I found sociologically fascinating - the poor Nepali servant class of the real-life narrative is smoothly replaced, in Mumbai, by a Bihari one; the cops, naturally, are not Jats but Marathi-speakers with a mocking air about the missing 'Bihari Babu' servant. The family of the murdered girl doesn't have a straightforward Punjabi Khatri surname, but are instead called Mahajan, a money-lending caste name common in Punjab, but also in Maharashtra and Gujarat.





There are other changes. The murdered girl is 18, not 14, making space for a full-fledged boyfriend character. But all these transformations do not seem to prevent us from treating the doctor couple of the film as the doctor couple we have read/watched so much about in real life.





The film may deny that it is about the Aarushi-Hemraj case, and yet it is so clearly playing on the rumours and speculations that have circulated for years about the Talwars: their parenting, their marital lives. Fiction continues to squeeze fact in an unwilling embrace.