'Tis the season to be jolly for world-cinema buffs. A pick of five best films at the International Film Festival of India this year.
A film festival is about drowning your sorrows in cinema — and coming up with something like joy. Ever since we lost the International Film Festival of India (IFFI) to the bracing seaside air of Goa, and then witnessed the sad, stuttering demise of our locally grown Osian's Cinefan, Delhi's world-cinema buffs have been robbed of their annual rite of submergence. I'm part of this large, deprived population (and if you're one of the snooty lot, reading this column in what you think is a more cultured city, you'd be surprised at just how many of us there are). I suffered silently for a bit, and then, as someone who makes a living by writing about cinema, decided it was legitimate to allow myself an annual winter pilgrimage.
In the last five years, I've been twice to Thiruvananthapuram, where Beena Paul Venugopal oversaw the most fabulously curated international festival in India until she resigned earlier this year (it would have been her 13th as the artistic director of International Film Festival of Kerala or IFFK) — and twice to Panjim for IFFI. This year was an IFFI year. And while the retrospectives weren't as exciting as IFFK's, Goa in November is a glorious thing, and even committed types like me who don't wander too far from the stretch of road between Kala Academy and INOX can get our fill of prawn curry, sanna idlis and homemade coconut-jaggery sweets, thanks to the wonderful women's cooperative stalls at the venue. Also, in Goa — where the state policy on alcohol is the happy opposite of Kerala's ridiculous current one — Kingfisher gets to run a practically cost-price stall in the INOX complex, holding IFFI visitors in its warm, captive embrace. (Couldn't get into the film you just queued up for? A beer is the answer. Insanely jolted by the film you just came out of? A beer is the answer.)
But the main thing about a film festival, of course, is the films. So without further ado, here are the best five films I saw at IFFI this year — in no particular order.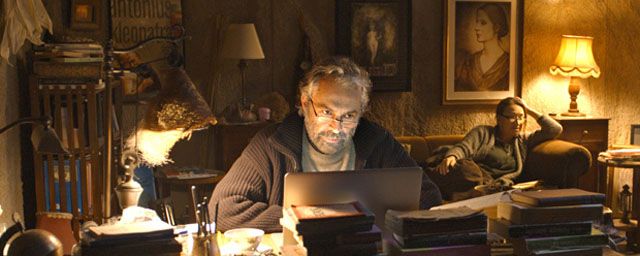 A still from Winter Sleep.
The Turks won the day, as they have often done at film festivals in the last decade, with two superb films. Nuri Bilge Ceylan, with his penchant for putting an increasingly complicated cast of characters under his dispassionate lens, served up the three-hour-long
Winter Sleep
, which won the Palme d'Or at Cannes this year. Partially inspired by three Chekhov stories, the film uses the eerie, striking landscape of Cappadocia for Ceylan's leisurely unpacking of his signature concerns: the tension between age and youth, rural and urban, men and women, and of course, between the classes. A minor incident pushes the upper-class protagonists — an ageing ex-actor-turned-hotel owner, his youthful wife and his bitter, divorced sister — to examine the cocoon they inhabit, and each other. But as they squirm under Ceylan's unforgiving lens, it becomes clear that the lives of others, to which they are ordinarily so oblivious, are not within easy reach of their charity.
The other Turkish film, Silsile (translated as 'consequences', but I think of it as 'a chain of happenings', based on Hindi/Urdu), also catapults its oblivious rich characters into a series of events. Set in the mixed Istanbul neighbourhood of Karaköy, Silsile is more tightly focused on class. Compared to Ceylan's slow deliberation and endless talk, Ozan Açiktan's film might seem all thrilling set pieces and beautiful people, but it is razor-sharp. Neither film lets anyone off.
I also loved writer-director Yi'nan Diao's
Black Coal, Thin Ice
, a laconic murder mystery set in a cold, bleak Chinese industrial town. An alcoholic ex-cop gets interested in a woman who is a suspect in an unsolved case. The plot is gripping, and the mystery both gory and strange (the limbs of victims show up on conveyor belts in coal mines across the country). But what keeps the film running in your head long after are the haunting visuals — dimly lit, snow-packed tunnels, groups of ice skaters in a bleak silent outdoor rink, neon-lit bar signs.
A still from Black Coal Thin Ice.
Continuing the winter theme (an unplanned effect of this year's IFFI), my fourth pick is Force Majeure, Ruben Östlund's brilliantly discomfiting take on masculinity and marriage. A Swedish family — husband, wife and two kids — on holiday at a French ski resort find the happy family veneer peeling off as the after-effect of a split-second moment of danger. It's full of incisively observed moments of conversation that are often acutely, guiltily funny — but this is no filmed play. Östlund makes masterful use of his sheer white skiing locales, interspersing pin-drop silence with almost operatic moments without seeming gimmicky.*
Finally, there was Narges Abyar's
Track 143
, an unexpectedly understated, moving portrait of a mother waiting for her son to come home from a war that has long ended. This is a film about a woman whose tenuous connection with the outside world, and with hope, is kept alive by a radio she ties around her waist. It is a film that does what no Iranian films had done for me before — gave me a sense of growing old with its protagonist, realising how the world can change while you cling to the past.
*
Force Majeure
is one of 9 films just placed on
the Oscar shortlist
in the Foreign Film category, in the company of another exquisite film from 2014, the Polish director Pawel Pawlikowski's
Ida
.