My
Sunday Guardian
film column this week: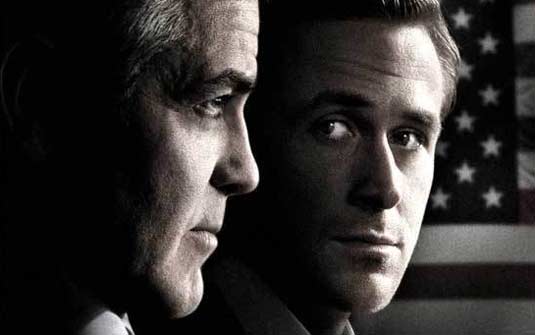 THE END OF INNOCENCE
The Ides of March
Director: George Clooney
Starring: Ryan Gosling, George Clooney, Philip Seymour Hoffman, Paul Giamatti, Evan Rachel Wood
***
George Clooney's newest directorial venture is an adaptation of Farragut North, a play named by its author Beau Willimon for the train station near Washington DC's K Street, a thoroughfare known for its think tanks and lobbyists. K Street comes up at least twice in the film, as the place where most of the characters in this nailbiting drama are likely to find themselves if they fail to get what they really want: a job in the White House. Set during the last week before a Democratic primary in Ohio,
The Ides of March
marshalls a stellar cast (Philip Seymour Hoffman, Paul Giamatti, Jeffrey Wright, Ryan Gosling and Clooney himself) to paint a depressing picture of American politics as the inevitable combination of on-stage idealism and backroom wheeling-dealing.
The tale is told through the eyes of Steve Mayers (Ryan Gosling), whose conscience – or lack of it – is really what the film turns on. When we see him in the very first scene, Steve is testing a mike for Mike Morris (Clooney), left-liberal Pennsylvania Governor and Presidential hopeful on whose campaign he's press secretary. His sound check involves repeating what we later find are words his boss often says to packed audiences: "If I'm not experienced enough for you, don't vote for me." It's not quite clear which Steve is the real one. Are we to focus on the world-weary, almost mocking tone he has as he finishes up the check, with words to the effect of 'Just don't vote for me'? Or are we to believe him when he says at another point in the film, "I can say or do anything, I just have to believe in the cause."
Willimon, who collaborated on the script, actually worked on Howard Dean's 2004 primary campaign. The insiderness shows. The film can't be faulted on its sharply-drawn sense of how a contemporary political campaign looks and feels from behind the scenes: the sleepless nights, the endless speeches, the nonstop media pressure, the constant need for potential damage control. And as it moves between the clean bright lines of the campaign office and the shadowy corners of restaurants and auditoria, it tracks the transformation of its characters into darker versions of themselves. It's a predictable tale, rather black and white, but told expertly.
OUT OF TUNE, OUT OF SYNC
Shakal Pe Mat Ja
Director: Shubh Mukherjee
Starring: Shubh Mukherjee, Pratik Katare, Saurabh Shukla, Raghuveer Yadav, Aamna Shariff
*
It's being marketed as an "offbeat comedy" but
Shakal Pe Mat Ja
is not offbeat so much as absolutely tuneless. Debutante writer-director Shubh Mukherjee takes a promising (apparently real-life) incident and makes of it a distastrously amateurish movie. Four young chaps – a supposedly jugaadoo cool dude called Ankit (played by Shubh himself), his smartaleck 13-year-old brother Dhruv (the annoying Pratik Katare), a Baba-Ramdev-worshipping scarecrow lookalike called Bulai (the even more annoying Harsh Parekh) and Rohan, an American-accented farting fatso ostensibly providing comic relief (Chitrak Bandhopadhyay, last seen as the hapless Machoman in
Mujhse Fraaandship Karoge
) – are picked up by Delhi Police for taking pictures of planes at the international airport. It is 2003, when – the voiceover informs us – Osama was still very much alive and terror alerts were de rigueur (as if the possibility of terror has stopped existing with his death).
So the boys spend hours holed up in a room inside the airport, being asked the same questions ad nauseam by a posse of Haryanvi policemen, and providing an endless supply of ridiculously stupid answers in return. Security head honcho (Raghuvir Yadav) is just about coming round to the idea that "yeh ladke dakait nahi bakait hain" (These boys aren't dacoits, they're bullshitters) when he chances upon an RDX reference in the footage they've just shot – of themselves talking. (This is what documentary filmmakers do, they shoot themselves sitting around chatting with each other. Ours not to reason why, clearly.) Enter a chana-chabaoing terror squad officer (Saurabh Shukla) who struts around calling himself Vijay Dinanath Chauhan and has a wife called Savita (cue series of terrible jokes about Savita Bhabhi).
But neither Yadav nor Shukla seem interested (or able) to prevent this film from sinking steadily into a morass of mediocrity. Every attempt at humour is doomed by stereotypes, repetiveness and gags so predictable we could write them in our sleep. From the slow-wittedness of Haryanvis (and police constables) to mutually exchangeable burkha-clad ladies, from a faux-mastermind figure called Omama (who appears at the other end of a walkie-talkie that our heroes stumble upon and continue to think is a phone even though they never dial a number on it) to a lisping terrorist sidekick, the script tries them all, and fails miserably to make us laugh. This is one film you should judge by its cover.