MERE BROTHER KI DULHAN
Director: Ali Abbas Zafar
Starring: Imran Khan, Katrina Kaif, Ali Zafar
***
And so we have another wedding movie from Yash Raj. This one, as you can tell from the name, is about brothers and dulhans. Kush (Imran Khan) has a
bade bhaisaab
called Luv (Ali Zafar), who has just broken up with his longterm girlfriend, and in burying that relationship, has also decided to bury his insistence on marrying a London
ki ladki
. So the obliging
chhota bhai
sets out on a predictably serio-comic set of encounters with prospective bhabhis. Things are looking rather hopeless – the small-town girls are caricatured as either depressingly domestic ("I do steeching") or embarrassingly wannabe (the one who turns the meeting with the supposedly Bollywood-based Kush into an audition) – when Kush's matrimonial ad finally elicits an "achha rishta": the only daughter of a Delhi-based foreign service official (the eternally charming Kanwaljeet). A thrilled Kush goes off to see the girl and surprise, surprise, he's met her before.
This is where the film really begins, hurtling first into a nice long flashback about Kush's first meeting with his
bhabhi
-to-be Dimple (Katrina Kaif), then into Luv and Dimple's wedding preparations, and finally Dimple's pre-wedding jitters, which Kush must sort out by partying with her for 48 hours. Of course, partying=love. The rest is about how Kush and Dimple achieve their target – marriage – while letting everyone think of them as sacrificial lambs to the family slaughter.
It's not scintillating, but
MBKD
gives us yet a fun-enough variation on the love-cum-arranged marriage, a theme going strong since
DDLJ
and seen most recently in
Tanu Weds Manu
. It also gives us another "free-spirited" heroine – one who wears short skirts, carries around cans of beer to throw at favoured boys and does impromptu rock concerts inside Agra Fort (I'm glad to report she's also arrested for this feat, if heroically so), but who, five years after college, has not the faintest glimmer of work attached to her. Perhaps that's what the title song means when it says, "
Ho Sita jaisa naari, aur jane duniyadari, piya ko sab kucch woh maane
". As Dimple tells Kush, she's glad to become the NRI wife spending her husband's money, and who is he to judge? Well, yes, I suppose, who are we to judge. But being honest about some things doesn't stop them being a trifle sad.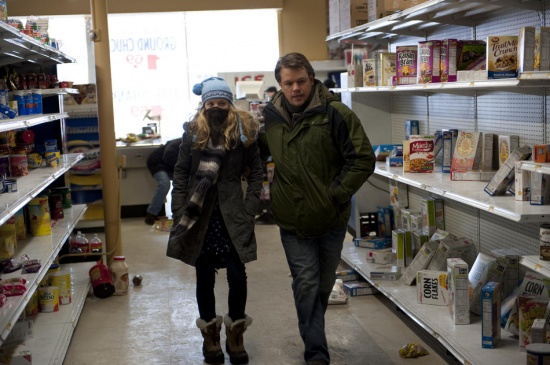 CONTAGION
Director: Steven Soderbergh
Starring: Matt Damon, Jude Law, Kate Winslet, Gwyneth Paltrow, Lawrence Fishburne,
***1/2
Steven Soderbergh, who began his innings with
Sex, Lies and Videotape
(1989) (a commercial hit which also won the 26-year-old Soderbergh the Palm d'Or at Cannes) before going on to make the critically acclaimed
Traffic
(2000),
Erin Brockovich
(2000) as well as the
Ocean's
series of hugely successful crime capers, has announced that he is going to stop making films and concentrate on painting. If his most recent film is anything to go by, the art world should be the gainer.
Contagion
is that rare thing: a crisply narrated thriller that also manages to be beautifully composed. From the dating teenagers making slow snow angels on a freezing Minnesota afternoon, to a scientist wandering around the lab in a spacesuit-like red uniform as she contemplates the monkeys in her vaccine trials, Soderbergh takes it slow enough to give each shot visual staying power. He takes the usually frenzied disaster movie and makes of it a film that moves chillingly towards its certain outcome. Yet as we move through an increasingly dystopian landscape: panicking crowds alternating with empty gyms, classrooms, mosques, the sense of urgency – and one's interest – never flags.
Right from the start, when we see a Minnesota executive (played by Gwyneth Paltrow) complaining of having the sniffles, the camera follows the chain of germs from Paltrow to the bartender, from him to the till machine – it's clear that disaster here is not a crutch meant to prop up heroes or create villains. The protagonist of this film is the epidemic itself: its unstoppable progress in an inextricably networked world where it can hop on a flight and claim its first victims almost simultaneously in Hong Kong and Minnesota. Not surprisingly, then, this is also a film in which actors' star power – Paltrow, Matt Damon, Kate Winslet and Jude Law – does not control the destinies of their characters. Damon, playing Paltrow's husband, is something like the film's human core, aided by Lawrence Fishburne as the CDC chief trying hard to retain dignity and Marion Cotillard as the WHO doctor sent to find the epidemic's 'Ground Zero'. But Soderbergh's masterful control of the medium ensures that we're never fixated on any one individual. In the end, what is most nerve-wracking is the absence of high-pitched histrionics, and the consequent believability.